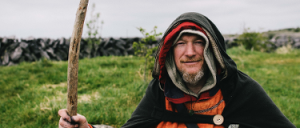 Ogham Ireland was established in 2006 after many years of working throughout the world, selling and designing Jewellery for a Spanish manufacturer. It became apparent there was a strong demand for Celtic jewellery, and so after returning to Ireland and visiting a number of heritage sites, I became inspired by the ancient Celtic script called "Ogham". It fascinated me, how they formed a basic script of lines carved on standing stones. After extensive research I formulated a method where I could inscribe a person's name in the ancient script on a plate of metal, initially it was difficult and time consuming .After further research and by means of trial and error I eventually mastered the craft, now nearly ten years on I would say I have become quite the craftsman.
I have engraved for many people including the president of Ireland and a number of Irish celebrities. Over the years "Ogham Ireland" has attended many prominent festivals, fairs and markets throughout Ireland. I am very passionate of my Irish heritage and history, it must run in the family as my grandfather fought for our freedom. It's my wish for every one whom aspires to rekindle their Ancient Celtic heritage to cherish an Ogham handcrafted jewellery piece. Each piece is designed and crafted with the intention that the bearer may enjoy a little contentment in knowing their piece has a unique meaning. 
This web site has been set up in order give people a deeper understanding of the Ogham script and a little history of the Celtic peoples. Who were and amazing race and true craftspeople of that era. After many centuries questions still remain unanswered about their mysterious ways. The intention of this web site apart from trading is also to create a community of like mindedness people. Where we can discuss topics related to the Celts, crafts, art, and general information about sacred knowledge and mythology of ancient civilisations. Where one may educate one's self ,and to assist one another in their quest to quench that insatiable desire for understanding.